When it comes to designing your dream kitchen, one of the key decisions you'll make is choosing the perfect countertop material. Quartz has been one of the preferred materials for kitchen countertops for many years, and for good reason. In this post, we'll address some of the common questions surrounding kitchen quartz, its benefits, and its drawbacks.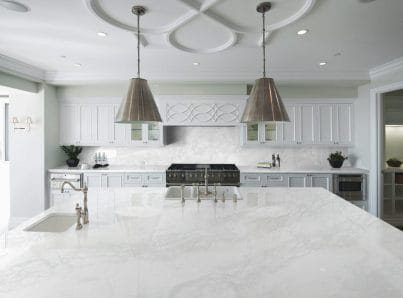 Is Quartz a Good Countertop for the Kitchen?
Definitely, quartz is an excellent choice for kitchen countertops. Its remarkable durability and elegant look make it a preferred option for homeowners and designers. Quartz countertops are engineered using a blend of natural quartz stone and other materials, resulting in a surface that's resistant to scratches, heat, and even stains. 
Which Quartz is Best for the Kitchen?
Selecting the best quartz for your kitchen is not complicated, consider exploring options like Mars Quartz from Hilltop Surfaces. It offers a stunning array of colors and patterns that can complement various kitchen styles, from contemporary to traditional. 
Pros and Cons of Quartz Kitchen Countertop
Quartz kitchen countertops offer numerous advantages. They are non-porous, which means they're highly resistant to spills, and anti-bacterial, making them a practical choice for busy kitchens. Additionally, quartz countertops require minimal maintenance, as they don't need to be sealed like natural stone countertops. On the flip side, the material that binds the minerals together in a quartz slab could be susceptible to changing colour when exposed to direct sunlight, so interior use is preferred.  
Can I Put a Hot Pan on Quartz Countertops?
While quartz countertops are durable and heat-resistant, it's generally advised to use trivets or hot pads to protect the surface from direct contact with hot cookware. Extreme temperature changes can potentially lead to cracking or discoloration over time. 
Does Quartz Stain Easily?
One of the major advantages of quartz countertops is their stain resistance. The non-porous nature of quartz prevents liquids from seeping into the surface, reducing the likelihood of staining. However, it's still wise to wipe up spills promptly, especially substances like oils and acidic liquids. 
In conclusion, kitchen quartz countertops like Mars Quartz combine durability and aesthetics to enhance your kitchen's appeal. With proper care and maintenance, quartz can be a long-lasting investment that elevates both the functionality and beauty of your culinary space.